About HiiL Innovation Hub – East Africa
HiiL Innovation Hub – East Africa is a non-profit organisation dedicated to finding and supporting the best justice entrepreneurs in East Africa. Therefore, we endeavour to bridge the justice gap and provide justice that is affordable, fast, accessible, easy to understand and one that delivers fair outcomes. Our mission is by 2030, 50 million people will be able to prevent or resolve their most pressing justice problems in East Africa. We do this by stimulating innovation and scaling what works best. We are friendly rebels focused on concrete improvements in the lives of people. 
We pride ourselves on being a unique nexus between innovative market solutions and a purpose-driven mission. We find and support entrepreneurs who are helping people to prevent and resolve their justice needs. In East Africa, we are working on building a vibrant community of justice innovation enthusiasts, innovators and supporters. Hence this role provides an opportunity to foster collaboration between ecosystem players, innovators and relevant partners. Moreover, we provide the role holder with the opportunity to develop a skill set in scouting, programme management and training. The right person for this role is a tenacious, resourceful, proactive learner and a committed change catalyst.
Why work with us?
You get a deep insight into the access to the justice sector in East Africa and the opportunity to develop connections with the key players in the space. 

You build relevant networks with donors and potential partners across East Africa.

You will get to work autonomously on diverse tasks where initiative and an appetite for learning is celebrated.

You will take part in co-creating the business strategy and shaping the core work of the East African Hub.

Our team operates in a very dynamic space, intellectually stimulating environment and flat hierarchy. We are collaborative and open to new challenges.
Please note:

We are no longer accepting any more applications for the Marketing Associate and Programme Associate – Kenya role.
We have received enough applications and we will be currently reviewing those.
Programme Associate - Rwanda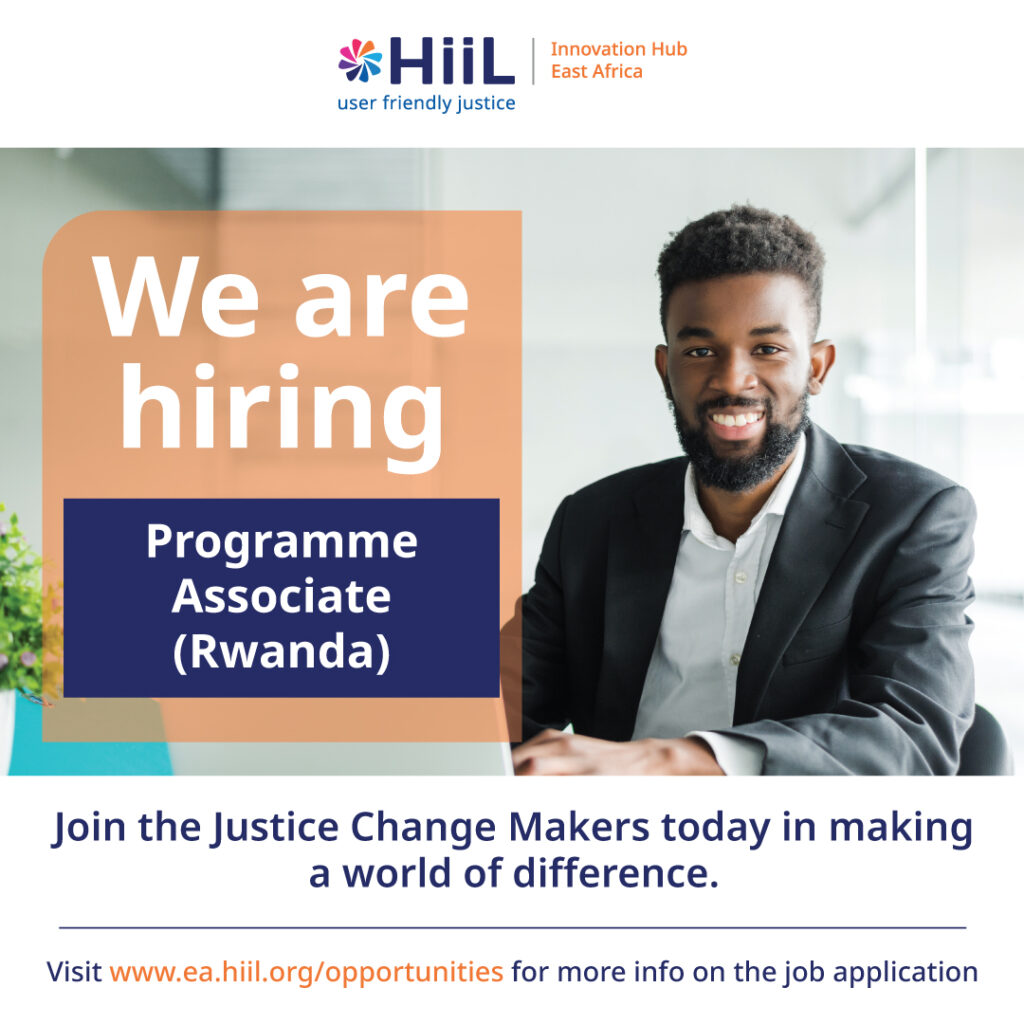 Job Title: Programme Associate – Rwanda
Reports to: Innovation Hub Head – East Africa
Job Type: Part time (4 days per week)
Location: Kigali, Rwanda 
Duration: 10 months 
Commencement Date: January 1, 2022
Responsibilities
Programme Delivery
Collaborate with the Programme Associate  – East Africa in developing, implementing, and evaluating ideation, incubation and acceleration programmes in Rwanda

Support the portfolio management and support of Rwandan start-ups in our various programmes, by checking in on them weekly, supporting them on various queries and matching them to relevant stakeholders.

Serve as main liaison for startups and programme partners including regular meetings and participation in programme activities and providing ongoing support.

Build and maintain relationships with community partners and manage vendors as needed.

Drive the design, development and distribution of local communication material that can showcase the opportunity of the Innovating Justice Challenge.

Find good quality, relevant innovations that apply for the Innovating Justice Challenge 2022 and other programmes.

Drive the evaluation and selection of quality innovations in Rwanda.

Support evaluation of all project activities and quality improvement activities. 
Marketing and Community Management
Assist in the development and distribution of local communication material that can showcase Hub's programmes and highlight the impact of our start-ups in local and international networks.

Organise community meet-ups, info sessions and partner on existing events to highlight the Innovating Justice Challenge in Rwanda

Coordinate with the Marketing Associate on various community management initiatives and activities for East Africa including engaging and supporting past and present innovators.

Continuously engage, connect and inspire the Rwanda HiiL Alumni.

Keep upto date with the latest developments in the tools and platforms on community development.
Event Management
Support in the planning and execution of all Hub events from start to finish in accordance with the set requirements, target audience and objectives.

Support in the delivery of programme related activities especially in regards to the public facing elements.

Coordinate all operations with respective stakeholders regarding the execution of events and engagement activities ensuring they are completed smoothly.

Lead promotional activities for all public-facing engagement events.

Analyse the event's success and prepare reports.
Key Performance Indicators
Number of quality applications received during each programme cycle as per target

Number of innovators supported in each programme as per target

Net promoter score from our innovators per programme

Number of participants that attend our online and offline events as per target

% of community events successful delivered
Ideal Profile
You have a background in law, development studies, business or social sciences is preferred.

You have experience in social business and in building enabling communities. 

You have exceptional written communication skills in English and can produce content. 

You are organised, self-driven and enjoy uncertainty.

You have strong planning, analytical, and project management skills.

You demonstrate compassion for the entrepreneurship journey.

You thrive in a dynamic environment, like to take initiative and have a can-do attitude.