HiiL Innovation Hub – East Africa is a social enterprise dedicated to finding and supporting the most promising justice entrepreneurs in East Africa. We seek startups that solve people's justice problems and aspire for them to have access to justice at work, at home, in their neighbourhoods, and in business.
We support startups that empower people with break-through innovations to create better:
working conditions with their employer

separation terms with their spouse

protection against theft, fraud, and violence

arrangements about noise, damages, and property access with their neighbour 
housing maintenance and rent conditions with their landlord

agreements on ownership, registration, and use of land

contracts, fraud protection, and compliance for their small business.
Jenga Haki is a programme that aims to challenge individuals to come up with innovative solutions around preventing or resolving certain justice issues using technology. The solutions are based on a theme that changes every year.
The Theme for this year is: how do you use technology to prevent or resolve justice problems around the family
The objective is to get people to innovate around the theme. They are encouraged to do so in teams of at least 3 people. The idea of having a team is to ensure that the solution developed is all rounded and practical and that is why we encourage teams of individuals with diverse academic backgrounds. 
The teams will have a chance to build a prototype and test it and at the end of the program the teams will pitch in front of a 4 member jury and the top 3 teams will receive an award of 1,000 euros to the winner, 750 euros to the first runners up and 500 euros to the second runner up.
Are you are interested in being part of the programme?
The programme is suitable for a team that:
Have a minimum of 3 members with multidisciplinary backgrounds specifically;

Law/Legal background

Business knowledge or social science background such as sociology, psychology 

Have IT or Software development experience

Members of the team must be above 18 years of age
Members of the team must be residents or citizens of the respective countries at the time of application.
The teams should develop solutions around the family justice catalogue in Kenya, Rwanda and Somalia. 
These are:
Domestic or gender based violence

Land rights and inheritance

Separation or divorce

Child support or custody
The Jenga Haki program offers a eleven week long programme that provides the selected teams with:
Masterclasses of between 4 (2 hour sessions) during the first week. The Masterclasses will be on;

Prototyping

Human-centered design or Designing for your User             

User Testing

Pitching and Presentation

2 weeks of mentorship as the teams design, develop and test their prototype.
Pitching of  the innovations during the Demo day in front of a 4 member Jury.
A chance to win grant funding of 1000 Euros to the winner, 750 euros to the first runners up and 500 euros to the 2nd runners up of the Demo event.
For Somalia and Somaliland, a chance for 2 winners to win USD 1000.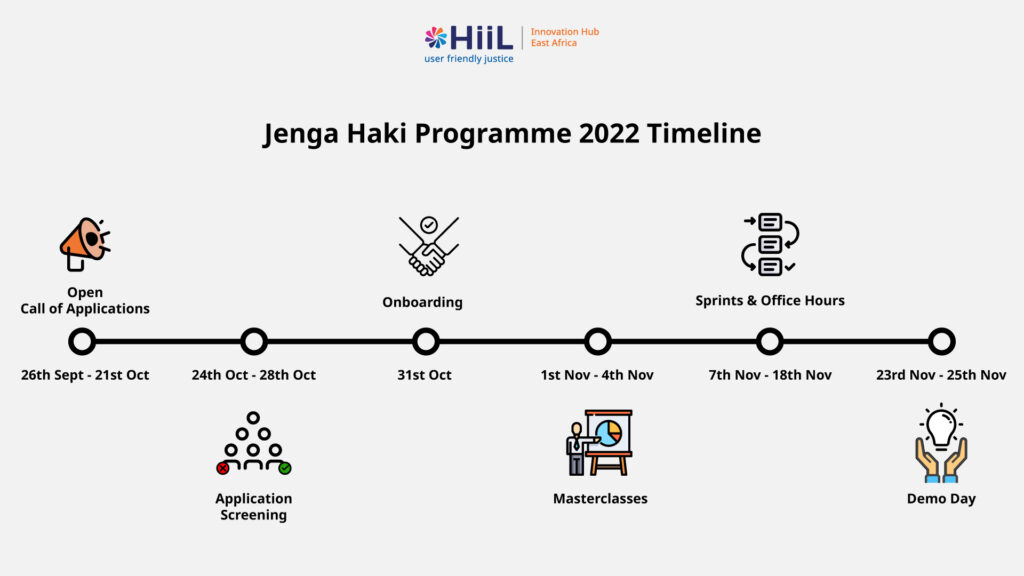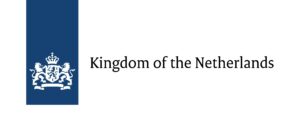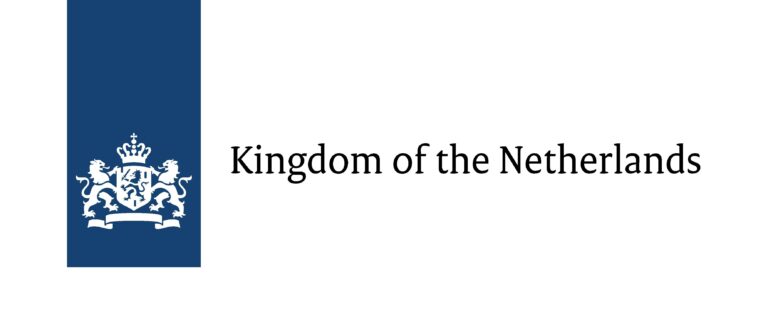 If you are interested in being part of the programme please apply today.
Registration opens on 
26th September 2022
and closes on
Friday 21st October 2022 at 00:59 EAT for Kenya and Somalia and
Friday 21st October 2022 at 23:59 CAT for Rwanda
For any questions about the Jenga Haki Hackathon Programme, please email the contacts below for your specific country:
Subscribe to our Newsletter
Subscribing to our newsletter gives you the latest articles on justice, opportunities and events.